Polycrystalline Sapphire Crucible Covers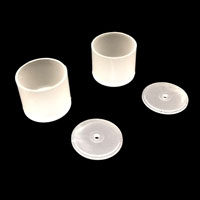 Our Polycrystalline Sapphire Sample Pans (Crucibles for Thermal Analysis) are made of poly crystalline alumina with purity >99.9%. The extreme high purity and a density of 100% allow the crucibles to feature great chemical inertness, abrasion resistance, and high temperature resistance. It is also translucent and provides optical transparency.
All dimensions listed are outside dimensions.