Fused Quartz Microscope Slides and Coverslips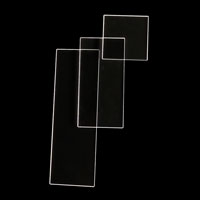 Fused Quartz microscope slides are used for high temperature applications up to 1200°C (2192°F) or microscopy applications which require UV transparency.
Optical Grade Fused Quartz is suitable for wavelength 220~2500nm
UV Grade Fused Silica is suitable for wavelength 185~2500nm and Full Spectrum Fused Silica is suitable for 260~3500nm
Besides the in-stock slides listed below, we also offer custom made slides, plates and discs with different grades of quartz material. Email us for any custom production request.
Optical Grade Fused Quartz Microscope Slides (220~2500nm)
UV Grade Fused Silica Microscope Slides (185~2500nm)
Optical Grade Fused Quartz Microscope Coverslips (220~2500nm)