Product Categories:
Clear Fused Quartz Discs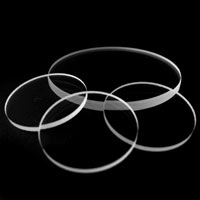 Fused Quartz microscope slides are used for high temperature applications up to 1200°C (2192°F) or microscopy applications which require UV transparency. Fused Quartz Microscope Slides are available in many sizes. We also make quartz plates and quartz discs in various sizes and thickness upon request. Call for any custom production request.
All standard discs are made of Optical Grade Fused Quartz (220~2500nm).
Other grades including UV Grade Fused Silica (185~2500nm) and Full Spectrum Fused Silica(260~3500nm) are available upon request.
Custom sizes are available upon request.
No minimum quantity requirement
$15.00 handling fee for orders less than $100.00 prior to shipping
Email sales@advaluetech.com for custom products