Clear Quartz Boat (Round Bottom)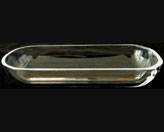 Fused quartz is made from the melting and refusing of crushed natural crystalline quartz. The low coefficient of thermal expansion of quartz provides excellent stability and resistance to thermal shock over large temperature excursions and wide thermal operating range. Fused quartz crucibles and boats are available in many sizes and shapes.
Email sales@advaluetech.com for custom products.
No minimum quantity requirement $15.00 handling fee for orders less than $100.00 prior to shipping.
All dimensions listed are outside dimensions.