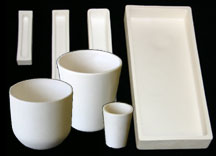 From our large stock of standard sizes, to custom products specially made to your design, AdValue Technology take pride in serving the needs from our customers for high temperature and high purity solutions.
We strive to serve as a long-term and value-adding partner to our customers, and help them achieve and preserve excellence and efficiency with our quality products and superior services.
AdValue Technology Products
Technical Information
AdValue Technology Catalog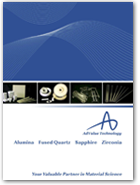 Download our Current Catalog for product details!
Single Crystal Sapphire products
A combination of high strength, great heat resistance, wide transmission wavelength range, excellent thermal conductivity and stable electrical properties. Check out the new standard sizes in stock!
Designed to hold samples for spectroscopic experiments. Applicable wave length range 190nm~2500nm. Macro, semi-micro and micro sizes are all available. Offered with 2 polished sides or 4 polished sides.
A solution for applications requiring extreme high purity and high temperature. Affordable alternative to platinum sample pans.