Ceramic Membranes for Optimal Separation
What We Offer
High quality Ceramic Membranes and Carriers with extreme homogeneity and narrow pore size distribution in the range of 0.1~2.0µm
Dense ceramic membranes for gas separation and gas lines.
Coated ceramic ultra-/nano filtration membranes for ranges under 0.1µm
Optimal tolerances and smooth surface finish
Innovative sealing technology that eliminates polymeric seals.
Translucent production possible.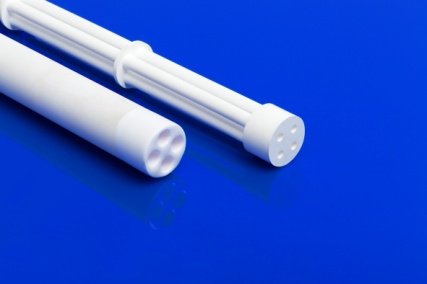 Applications
Our ceramic membranes and carriers are developed for the optimal separation of a wide range of fluids and gases. Application areas include:
Chemical
Steel
Paper and Pulp
Biotechnology
Drinking Water
Waste Water
Oil and Gas
Power and Electronics
Pharmaceutical
Food and Beverages

Dairy
Beer
Wine
Fruit Juice
Why Choose Ceramic Membranes and Carriers
Compared to polymers, ceramic membranes offer a narrow pore size distribution exactly matching the components to be separated. They also provide better resistance against aggressive chemicals, high temperatures, a high and constant flux and a long service life.
Ceramic carriers are an ideal base for membranes and micro-filtration applications in the chemical, pharmaceutical and food industry as well as in water and waste water processing.
The polymer-free all-ceramic sealing of our membrane tube assemblies leads to several clear advantages:
Maintenance free long life seals which can resist much higher temperatures and pressures compared with polymeric seals and is fully inert;
For sanitary membranes, the absence of polymeric seals greatly reduced the sensitivity for bacterial infection at the seals by a full fit;
Compatible with severe back washes with aggressive chemicals in order to clean filters, leading to low maintenance costs
Designs Available
SUBSTRATE CHARACTERISTICS
Substrate material
α-aluminum oxide
Operating mode
crossflow
Configuration
Multiple options
Length
max. 1200 mm, standard lengths are 250, 600 and 1200mm
Structure
Symmetric
Asymmetric
Mean pore diameter
2 µm
1 µm
0.6 µm
0.2 µm
0.1 µm
40 nm
20 nm
Configuration
Design
No. of Channels
OD/ID (mm)
Length (mm)
Surface (m²)
Drawing
Single Bore
1
<18.0/>1.0
≤ 1200
0.003~0.06
4-tube system
4
25.4/7.0
≤ 1200
~0.11
Multi-bore
4
25.4/7.0
≤ 1200
~0.11
Multi-bore
7
25.4/6.0
≤ 1200
~0.16
Multi-bore
37
25.4/2.7
≤ 1200
~0.38
Hollow fiber
1" module with hollow fibers
19
Fiber 4.3/2.8
166
~0.03
Hollow fiber
4" module with hollow fibers
220
Fiber 4.3/2.8
360
~0.7
Hollow fiber
8" module with hollow fibers
1300
Fiber 4.3/2.8
360
~4.1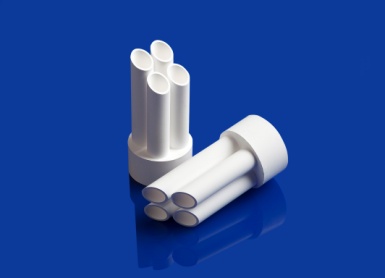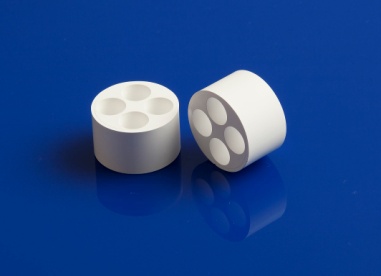 Want to know more about the ceramic membranes? Email us using our Contact Us Form or call us at 520-514-1100 for further discussion.